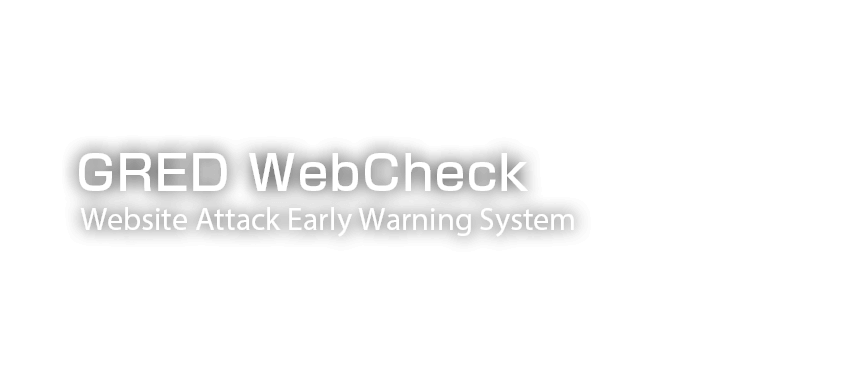 Introduction of GRED WebCheck
Japan Share No.1 Website Attack Detection System

Source: MIC Research Institute Ltd.
Current status and future outlook of cyber security solution market 2018
https://mic-r.co.jp/mr/01305/
Product Overview of GRED WebCheck
Key Benefit
Early warning against website malware injection, defacements and search engine blacklisting
Monitors website 24×7
Alert notification by E-mail
Privided as SaaS service with no software to install
Website is an important part of today's business and having malicious content injected in website is bad for business.
Hackers are now penetrating into websites and planting hostile scripts to silently spread malware to its visitors.
This will compromise your customer's security and privacy.
Eventually, search engines will blacklist your website.
Although the website owner is a victim himself, such events are still very bad for his business's reputation.

Early Warning System
GRED WebCheck is an early warning system for website attacks.
It is a cloud-based service that continuously monitors your website 365x24x7 for the presence of malware injection and other types of malicious content.
Whenever it finds a malware threat, it will notify the website administrator by automatically sending an email.
The website administrator can then review the details on Gred WebCheck's web portal.
Since it is a cloud-based service (SaaS), there is no hardware or software installation required on the customer's website.
Alerting and Web Portal
When website injection attack is identified, an email alert is immediately sent to the administrator to notify him about the threat.
The Web Portal is the mechanism responsible for taking action when a new threat has been identified in the Inspection System.
It collects enough data so that detailed information can be provided to the administrator via the Web Portal.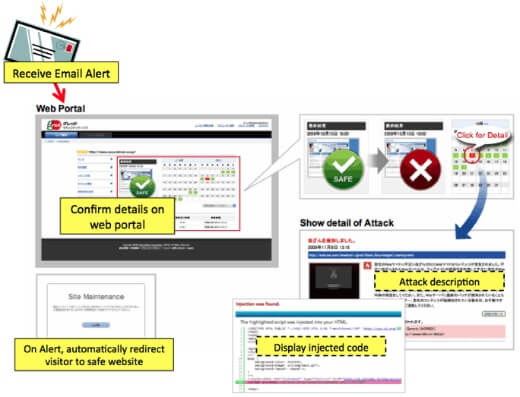 How it works
The administrator registers the URL of the top page of the customer's website that needs to be monitored.
Upon registration, the system will begin deep analysis of the website.
There are three main parts of the entire process.
Download system – It navigates thru the website to download its content.
It will recursively crawl hyperlinks found on the website to automatically retrieve all the pages of the website that it needs to browse to.
Inspection system – Its main function is to do a static analysis on the web content passed by the Download system to look for malicious code.
Web portal and Action – When a malicious threat is found during analysis, the web portal takes action automatically by sending an email alert to the administrator to notify him of the problem.
Depending on the pre-specified settings, it may also trigger the redirect feature on the customer's website to automatically redirect users to a safe page upon visiting the infected website.
The Web Portal also allows the administrator to view the details of the attack.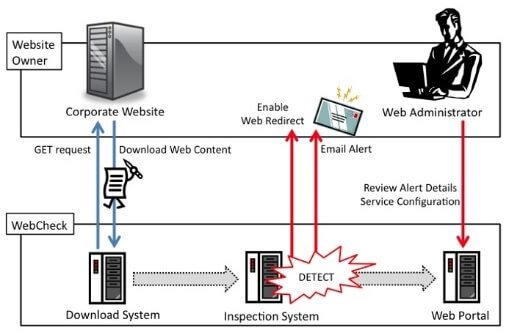 Award Winning Service
GRED WebCheck was awarded "Best New Product" in 2011 by the "Nikkan Kogyo Shimbun", one of the leading newspapers in Japan.

Try GRED WebCheck
If you want to try our technology, CLICK HERE to visit the following URL to register for limited two week trial service.
(Currently Japanese only.)