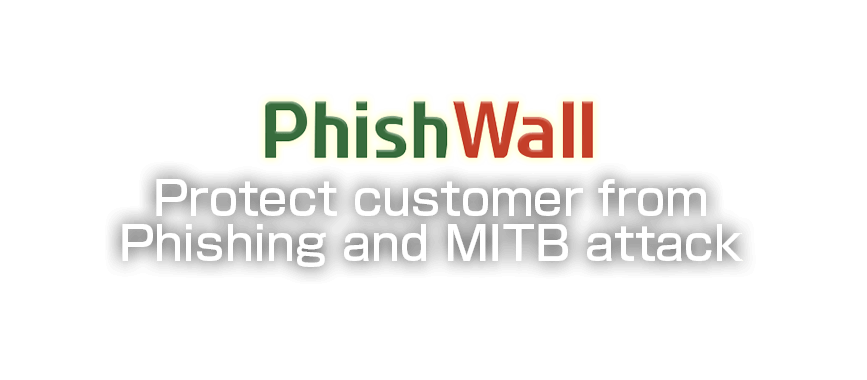 Product Overview of PhishWall Premium/Clientless
Key Benefit
Multi-layered anti-phishing solution to better protect your customer
Protect and mitigate against traditional phishing and sophisticated MITB attack
Designed to minimize implementation costs

Phishing has become a widespread problem globally and the attacks have become very sophisticated.
These attacks cause end-users to incur financial losses and institutions to have greater potential liabilities.
Traditionally, criminals used phishing websites to steal sensitive information such as login IDs and passwords.
In the recent years, attacks have become more sophisticated such that criminals are now injecting phishing web content into authentic websites, thus making it more difficult for victims to notice anything suspicious.
This attack is known as Man-In-The-Browser (MITB) attack. To help prevent phishing, it is important that your customers can easily identify authentic websites and be protected from MITB attacks.
PhishWall is a multi-layered anti-phishing solution that provides both client-based(PhishWall Premium) and server-based (PhishWall Clientless)protection to help institutions protect their customers against phishing attacks.
Our technology will help your customers authenticate and identify your website easily.
In addition, your customers will be audited for MITB attack before accessing your website.
Client Layer(PhishWall Premium)

Browser add-in to help your customers easily identify your website from fake phishing site using content based authentication technology
Audits your customers PC for MITB based malware attack before accessing website
Server Layer(PhishWall Clientless)

Protects web application contents from MITB attacks
Mitigates and tracks MITB attack
Minimum implementation cost and does not require web applicatin installation or new servers/appliances
Designed to Minimize Implementation
Often, the costs of implementing additional layers of security on mission critical web applications can be high and time consuming.
PhishWall was designed to minimize implementation costs and does not require additional servers or installations of new application on the web server.
PhishWall is a proven technology and being used now by over 160 financial institutions to protect their consumers against traditional phishing and MITB attacks.
PhishWall Anti-Phishing Solution
SecureBrain's solution to combat the phishing problem is PhishWall. PhishWall provides both server side and client side solutions to combat this problem.
Client Layer PhishWall (PhishWall Premium)
SecureBrain's solution to combat the phishing problem is PhishWall.
PhishWall provides both server side and client side solutions to combat this problem.PhishWall Client software uses our patented "content based" website authentication technology to help your customers distinguish between an authentic website and a phishing site.
It also includes technology to protect your customers against MITB attacks by malware that target financial institutions including SpyEye, Zeus and Citadel malware family.
Server Layer PhishWall (PhishWall Clientless)
To better protect online banking services against MITB attacks, PhishWall provides an server side technology that can identify traces of MITB attacks on the client PC. When MITB attack is detected, it can terminate the session and capture evidence of MITB attacks. The PhishWall server layer technology can be used independently from client layer protection, but to better protect your customer, it is recommended to use our solution as a multi-layered solution.
PhishWall Clientless Identity-Proofing Service (Option)
Identity-Proofing Service analyzes device as well as web access telemetry information to determine if user is legitimate or not and can block illegitimate user access. The detection engine of Identity-Proofing Service uses SecureBrain's proprietary big data analysis engine that can determine impersonation login attempts and block illegitimate users. Even if credential information such as ID and password is stolen through phishing websites, it can protect the customer accounts from unauthorized access and notify the customer.
CAPABILITIES
Client Layer
(PhishWall Premium)
Server Layer
(PhishWall Clientless)
Helps acustomer identify authentic website
YES
–
Audits a customer's PC for active MITB attack
YES
–
Audits web content for active MITB attack
–
YES
Tracks and logs MITB attack
YES
YES
New software install required
YES
NO
New hardware required
NO
NO
Identity-Proofing Service
–
YES(Option)
PhishWall Users
Abukuma Shinkin Bank
Aichi Shogin
Aichiken chuo Shinyoukumiai
Aizu commerce and industry credit union.
AKAGI SHIN-YO KUMIAI
Akitaken Shinyoukumiai
Amagasaki Shinkin Bank
Amami Sginyoukumiai
Aomoriken Shinyoukumiai
Asahi Shimbun Credit Cooperative
Asuka Credit Cooperative
Bank of Kyoto, Ltd
Banshu Shinkin BANK
Boshin
bunka-sangyou shinyoukumiai
Chiba Shinkin Bank
Chogin-Nishi Shinkumi,
Choshi Shoko Shinyoukumiai
Community Bank Senpoku
Daido Sghinyoukumiai
Daitokyo Shinyokumiai
Danyo Shinyo Kumiai Bank
Diichi Kangyo Credit Cooperative
DIRECTONE Co. Ltd.
EHIME BANK,LTD.
Fukuokaken Shinyo Kumiai
Fukushima Kenshin
Furukawa Credit cooperative
Gifu Shoukou Shinyoukumiai
Gunmaken Shinyoukumiai
GUNMAMIRAI Shinkumi Bank.
HANA SHINYO KUMIAI
Hanno-Shinkin Bank
Hida Shinyoukumiai
HIGASHI-NIPPON BANK, Ltd.
Himifushiki Shinkin Bank
Hokuoh Shinkumi
Hokuto Bank, Ltd.
Hyogoken Iryo Credit Union
Hyogoken Shinyoukumiai
Io Shinyo Kumiai
Ishinomaki-shinkin bank
Isurugi Shinkin Bank.
Iwaki Shinkumi,Ltd.
JA Bank
JACCS Co.,Ltd.
Japan Post Bank Co., Ltd.
JCB Co., Ltd.
JF Marine Bank
Johoku Shinkin BANK
JOYO BANK, Ltd.
Kagawaken Shinyou Kuniai
Kagoshima kougyo shinyou kumiai.
Kanagawaken Ishi Shinyokumiai
Kanagawaken Shikaishi Shinyokumiai
Kansai Mirai Bank, Limited
Kasaoka Shinkumi Bank
Kawaguchi-Shinkin Bank
Keiji Shinyoukumiai
Kimitsu Shinyoukumiai
Kinki Sangyo Credit Union
Kiraboshi Bank,Ltd.
Kirayaka Bank, Ltd.
Kitagun Shinyoukumiai
Kumagaya shouko shinyoukumiai
Kumamotoken Shinyoukumiai
Kushiro Shinyoukumiai
Kyoei Shinyokumiai
Kyoto Chuo Shinkin Bank
kyouritsu shinyokumiai
Life Card Co.,Ltd.
Masushin
MichinokuBank Co.,Ltd.
MINAMI NIPPON BANK,LTD.
Mire Shinyo Kumiai
Miyazaki Taiyo Bank Co.,Ltd.
Moka Credit Union
Nagasaki Mitsubishi Shinyoukumiai
Nakanogou Shinkumi
Nasu Shinkumi
Niigata credit union
Niigata Daiei Shinkumi
Niikawa Shinkin Bank
Nozomi Shinyoukumiai
Ogaki Kyoritsu Bank Ltd.
OGAKI SEINO SHINKIN BANK.
Oita Bank.co,.ltd
Oitaken Shinyoukumiai
Okayama Shinkin Bank
Orient Corporation
Osaka Doctor's Credit Union
Saitama Doctor Bank
Saitama shinyoukumiai
SANJYOU SHINYOUKUMIAI
Sapporo Chuo Shinyo Kumiai
SEIKYO SHINKUMI
SEIWA
Shichitou Shinyoukumiai
Shigaken Shinyoukumiai
Shimanechuo Shinkin
Shinminato Shinkin
Shizuoka Chuo Bank,Ltd
Shoko Chukin Bank
Soai shinkumi
Sony Bank Inc.
Sorachi Shinkumi
Sumitomo Mitsui Banking Corporation
Sumitomo Mitsui Trust Bank, Limited.
SURUGA bank Ltd.
Takaoka Shinkin Bank
Tamashima Shinkin Bank
The Ashikaga Bank, Ltd.
The Bank of Kochi, Ltd.
THE BANK OF NAGASAKI, LTD.
The Bank of Nagoya, Ltd
The Bank of Okinawa, Ltd.
THE BANK OF SAGA LTD
The Bank of Toyama, Ltd
The Bank of Yokohama, Ltd
The Chiba Bank, Ltd.
The Chiba Kogyo Bank,Ltd.
The Chunichi Shinkin Bank
The Daisan Bank, Ltd.
THE FUKUHO BANK. LTD
The Fukuoka Chuo Bank, Ltd.
The Fukushima Bank, Ltd.
The Gifu Shinkin Bank
The Hekikai Shinkin Bank
The Higo Bank, Ltd.
The Hiroshima Bank, Ltd.
The Hiroshimaken Credit Cooperative
The Hiroshimashi Credit Cooperative
The Hokkaido Bank,Ltd.
The Hokuriku Bank Ltd.
The Howa Bank. Ltd.
The Hyakugo Bank, LTD.
The Hyogo Himawari Shinkumi Bank
The Johnan Shinkin Bank.
THE KAGAWA BANK,Ltd.
The Kagoshima Bank, Ltd.
The Kawasaki Shinkin Bank
The Keiyo Bank, Ltd.
THE KYOTO SHINKIN BANK
The Musashino Bank, Ltd.
THE NAGANOBANK, LTD
THE NAGANO-KEN SHINKUMI BANK
The Nishi-Nippon City Bank, Ltd.
THE NISHIO SHINKIN BANK
The Norinchukin Bank
The Ohkawa Shinkin Bank
The Okazaki Shinkin Bank
THE OKINAWA KAIHO BANK,LTD.
The Saitamaken Shinkin Bank
The San-in Godo Bank, Ltd.
The Sendai Bank, Ltd.
The Senshu Ikeda Bank, Ltd.
THE SHIZUOKA BANK,LTD.
THE SHONAI BANK, Ltd.
The Shonan Shinkin Bank
The Sugamo Shinkin Bank
The Tochigi Bank, Ltd.
The Toho Bank, Ltd.
THE TOKUSHIMA BANK,Ltd
The Tokyo Higashi Shinkin Bank
THE TOTTORIBANK,LTD.
The Toyota Shinkin Bank
The Yamagata Bank Ltd.
The Yamanashi Chuo Bank, Ltd.
Tokachi Shinkumi
Tokyotoshokuin Credit Cooperative
Tonami Shinkin Bank
Toyama Shinkin Bank
Toyamaken shinyokumiai
Toyohashi Shoko Shinyoukumiai
Toyokawa Shinkin Bank
TRIbank Hiratsuka
TRIbank Kanagawa
TRIbank Sagami
Tsuru Shinyoukumiai
Yamagata Chuo Shinyokumiai
Yamagatadaiichi Shinkumi
Yamanashikenmin Shinyoukumiai
YOKOHAMA KOUGIN Credit union
Zentouei Shinyokumiiai